200 mobile hotspots to help close the digital divide through 12 library branches
April 17, 2015
JOHNSTON, RI, – Mobile Beacon, a national Educational Broadband Service (EBS) provider of low-cost, 4G mobile Internet access for schools, libraries and nonprofits, partnered with San Mateo County Library (SMCL) to launch the "Bring the Internet Home" program to patrons across San Mateo County's 12 library branches.
Understanding that patrons' need for access goes beyond the physical boundaries of the library, SMCL has taken the lead in providing free unlimited Internet access to its community. This "Bring the Internet Home" program will offer any San Mateo County resident 18 years or older the opportunity to borrow a Wi-Fi hotspot for one week. This new "In Luck" library service should enable hundreds of households to continue educational activities at home, increase digital literacy skills, and take advantage of education, health, employment and community resources.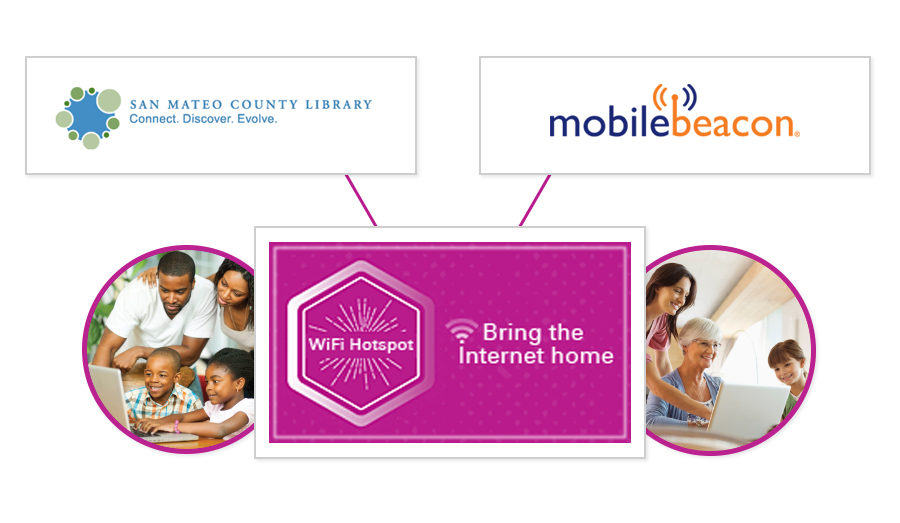 "This program essentially provides 24/7 access to those who are currently limited to using the Internet at a physical library facility during a once-a-day, 2-hour time slot, allowing them to continue to learn, work, explore, and create even after the library is closed," said Anne-Marie Despain, Director of Library Services for SMCL.
Katherine Messier, Managing Director of Mobile Beacon, added, "We're excited to announce this program during the ALA's National Library Week. ALA's theme this year is 'Unlimited Possibilities @ your library,' which echoes our principal belief that making broadband more accessible within communities will help create opportunities through connectivity. This hotspot lending program will help bridge the digital divide in the heart of Silicon Valley."
Funding for this program was provided by a state grant, which helped to cover Mobile Beacon's $10/month, unlimited 4G Internet data plans. Additionally, San Mateo County Library was able to receive 200 donated Wi-Fi hotspots through Mobile Beacon's donation program on TechSoup.org. Mobile Beacon launched its donation program through TechSoup in 2012 and remains the only mobile broadband service provider to make its devices available as a donation through TechSoup. To-date, more than 2,000 nonprofits and libraries have taken advantage of this donation program.
This Internet lending model is a trend that is gaining traction among library systems across the United States. Mobile Beacon has similar projects in 74 communities across 20 states, ranging from cities like Chicago and Los Angeles to rural areas of Kansas and Texas.
About Mobile Beacon
Mobile Beacon provides fourth generation (4G) mobile broadband services exclusively to schools, libraries and nonprofit organizations across the United States through an agreement with Sprint. Mobile Beacon was created by a 501(c)(3) nonprofit organization and the second largest national educational broadband service (EBS) provider in the country. We help educators and nonprofits get the Internet access they need and extend access within their communities to those who need it most. Learn more and visit Mobile Beacon at https://www.mobilebeacon.org, www.facebook.com/mobilebeacon, and www.twitter.com/mobilebeacon.