No matter your nonprofit's purpose, digital inclusion is part of your mission.
The internet has opened up a world of information and opportunity for the majority of people, but 34 million Americans remain without access to the internet. Without it, it's harder for our children to do their homework, adults to find and apply for jobs, or families to obtain affordable health insurance.
Your client's access to technology is critical in your effort to fight hunger, poverty, equality, and countless other fights. Digital inclusion is another tool in your arsenal to provide holistic solutions for your clients.
Everything today is using technology. Low-income families need low-cost internet. Can't do anything without internet."
— Bridging the Gap Subscriber
Are you a nonprofit providing services and resources for clients to become self-sufficient or get ahead? Imagine how valuable it would be for your clients to have 24/7 internet access to take an online class, apply for jobs, or look up the local transportation schedule.
Are you a school whose students struggle to complete their homework assignments due to lack of internet access? An affordable computer and internet access would be an invaluable resource for your students and enable you to communicate more easily with parents.
Are you a library that provides valuable resources online? A patron without home internet will now be able to have anytime, anywhere access to critical information.
Are you a healthcare provider traveling to patients who do not have the ability to consistently upload data? The reliability of a stable and fast internet connection would empower your patients to take control of their health and save your staff hours on the road.

Because a limited budget shouldn't mean limited internet.
PCs for People and Mobile Beacon partnered to create Bridging the Gap, a program that brings access to life for individuals and families under the 200% poverty level. Bridging the Gap empowers schools, libraries, and nonprofits like yours to let your clients know how they can get high-quality, discounted computers and first-class uncapped, high-speed, and unlimited internet service so their limited budgets won't mean a second-class level of technology.
73%
of Bridging the Gap subscribers said we were their FIRST home internet service.
94%
of Bridging the Gap subscribers now use the internet daily (most for several hours a day).
32%
of Bridging the Gap subscribers are now enrolled in a daily or weekly online class.
93%
of Bridging the Gap parents said they communicate with their child's teachers more often.
Connect more families to the internet and you'll connect to more families.
Bridging the Gap elevates the work you're already doing. Our program takes a "whole family approach" to closing the digital divide by ensuring people of all ages and stages of life gain access to the internet. No matter who you serve, Bridging the Gap can help!
Become a partner today!
Now there's a FREE platform that allows you to offer PCs for People's affordable, high-quality refurbished computers and Mobile Beacon's unlimited, high-speed internet service for as low as $11.25/month.
Quick, easy sign-up: the partner application takes only minutes to complete.
No cost for you to administer: no additional staff or administrative costs for your organization. Just spread the word by circulating your customer link to your eligible clients.
We manage everything for subscribers who sign up: PCs for People takes care of the ongoing billing, device fulfillment, and any customer or technical support requests.
Measurable Impact: log-in to view a dashboard that will enable you to report on the impact your organization had in closing the digital divide in your community.
Nonprofits and community anchor institutions in 47 states have already partnered with PCs for People and Mobile Beacon to Bridge the Gap. Join us.
Starting in 2016, PCs for People and Mobile Beacon partnered to help distribute donated laptops, hotspots, and internet service to families in need in Denver, Colorado through our shared program Bridging the Gap.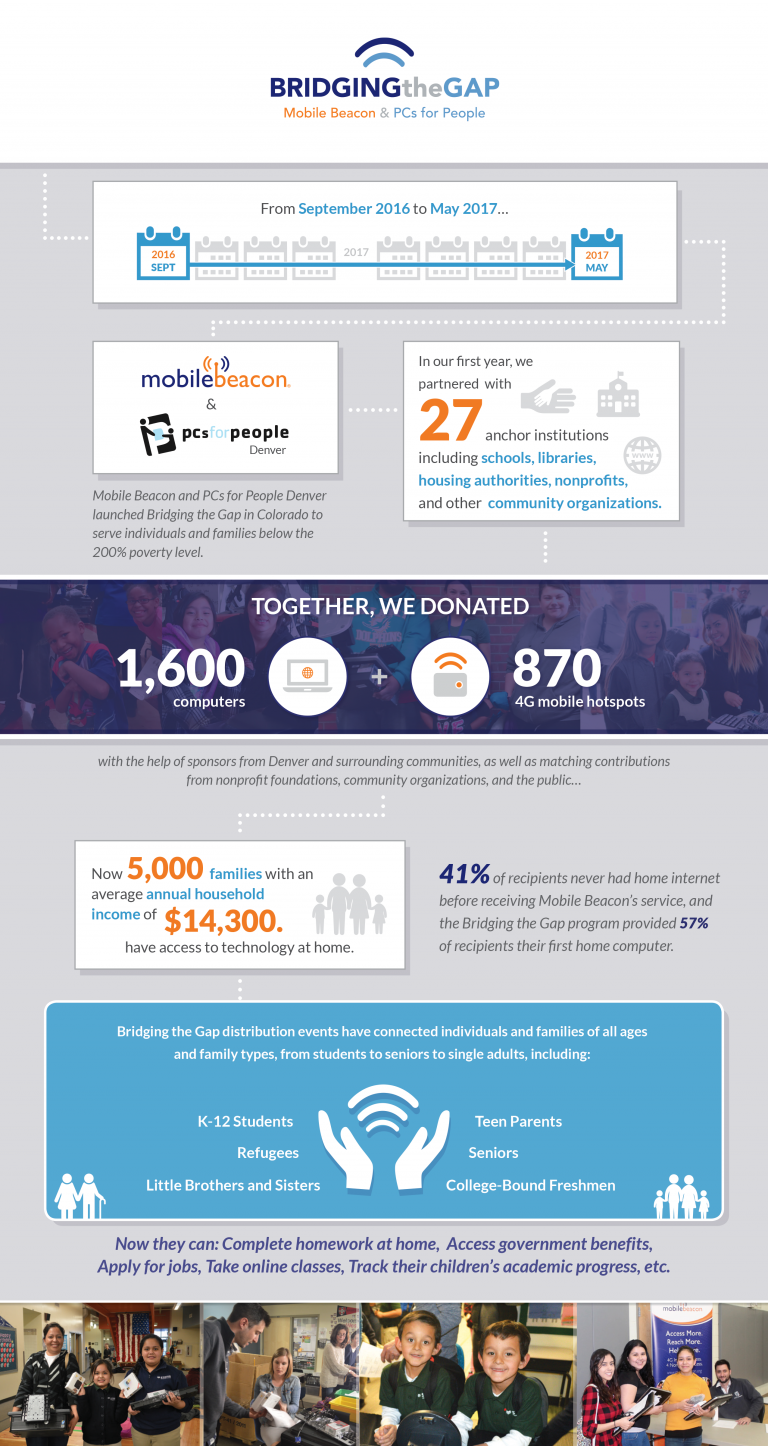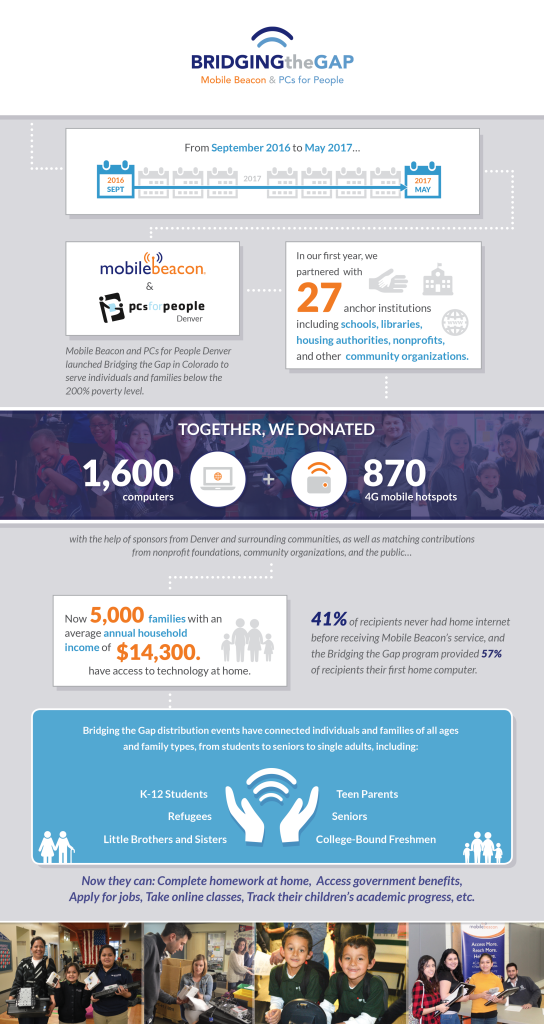 (Click to enlarge)