We're completely energized from the recent Schools, Health & Libraries Broadband Coalition (SHLB) 2015 Annual Conference! SHLB is made up of like-minded nonprofit and commercial organizations that support open, affordable, high-capacity broadband connections for community anchor institutions (CAIs) and their surrounding communities.
Why was the conference so great? It reinforced that we're part of a larger nationwide effort to make sure that CAIs have affordable access to broadband. We shared ideas with a fascinating mix of broadband providers, CAIs, public interest organizations, partners and federal, state and local government officials.
Our own Alisson Walsh participated on a panel called Beyond Fiber: Wireless CAI Strategies. "Each panel member brought a different perspective on a variety of wireless options for CAIs. For example, Mobile Beacon's roots as an Educational Broadband Service (EBS) provider using dedicated spectrum from the FCC to support education is the basis for our programs and pricing," she said. "That's one of the things we love about SHLB – even though everyone has a different approach, we're all working together toward the same goal."
In addition, we participated in an FCC Lifeline workshop with the National Digital Inclusion Alliance (NDIA), which announced its formation at SHLB. NDIA is a unified voice for local technology training, home broadband access and public broadband access programs. Watch for a guest blog from the NDIA director soon!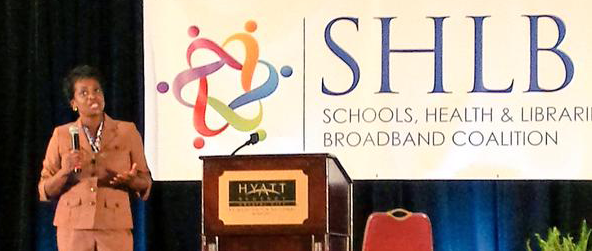 Commissioner Clyburn gives a keynote presentation on the need for Lifeline reform.
Lastly, Keynote speaker Commissioner Mignon Clyburn gave a firebrand presentation about bridging technology divides and rebooting the Lifeline program for the 21st century. As a daughter of a librarian, she has been a long-time advocate for increasing access for low-income families and has been a passionate advocate for including broadband within the Lifeline program.
The best part of the conference was that after each session, SHLB asked participants to stay and discuss what they felt were the most important issues SHLB should work on in 2016. An impressive 90 percent of them did so – watch for results being collated now.
Wi-Fi to Go Library Pilot winners announced

We were also proud to announce our Library Pilot program recipients at SHLB. We were overwhelmed with the thoughtful responses in the applications from all types of libraries across the country, and ended up choosing two library winners:
Kansas City Public Library (KCPL) in Kansas City, MO
Kitsap Regional Library in Bremerton, WA
Both aim to use the equipment to help close the digital divide in their communities through a range of innovative programs and services. Each will receive $18,000 of equipment to launch a hotspot lending program, including 25 laptops and 25 4G mobile hotspots with free unlimited data plans for six months.
"The mission of the Library is to be a doorway to knowledge for all," said Cheptoo Kositany-Buckner, KCPL deputy director of strategic initiatives. "With this program, we hope to open the door for students and their families to be able to operate in today's digital society."
We're looking forward to continuing to work with these dedicated professionals and CAIs to increase broadband access and enhance education for all Americans. We're also launching a school pilot program – see all the details here.