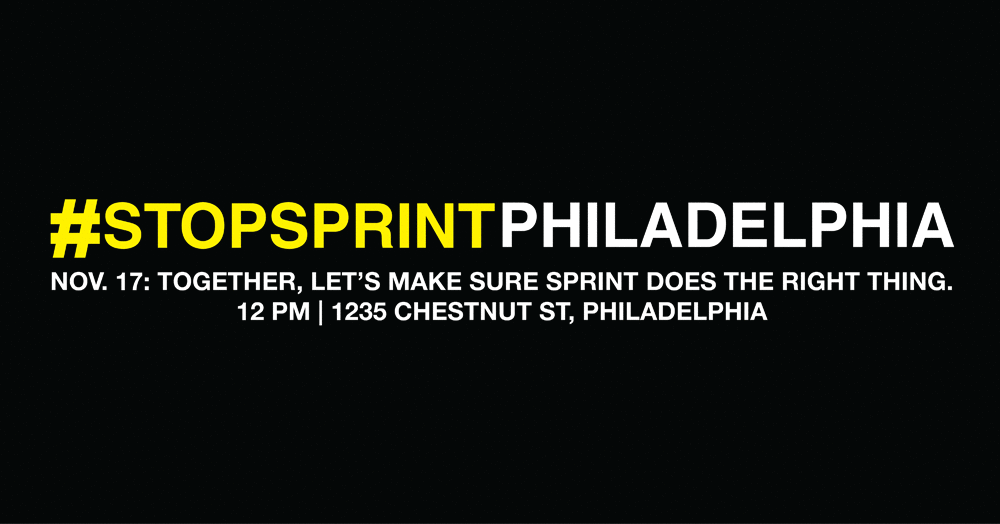 (PHILADELPHIA) November 16, 2015 – A group of Philadelphia residents will protest the Sprint Corporation's continued effort to shut off broadband access to more than 300,000 vulnerable Americans, including at least 10,000 Philadelphians, with a protest Tuesday at noon in front of a downtown Sprint store.
Earlier this month a Massachusetts court granted a preliminary injunction stopping Sprint from disconnecting Internet to 429 schools, 61 libraries and 1,820 nonprofits across the country, including Philadelphia Education Fund and Jump Wireless in the Philadelphia area. But instead of working to get the community of children, parents, seniors and disabled people transitioned off the WiMax network and on to LTE, Sprint appealed the court's decision.
Sprint CEO Marcelo Claure espouses a desire to close the digital divide and has publicly committed to "empowering young people with education and technology so they can change their lives and change the world for the better." Yet it is fighting to disconnect more than 300,000 under-resourced Americans.
More than 5,000 people from across the country have signed a petition urging Sprint to practice what it preaches and keep this community online. Thousands have shared their stories about how losing Internet will harm their ability to live and learn. Those stories will be read in front of the Sprint store on Tuesday.
WHAT: Direct action telling the stories of people whose Internet access Sprint is looking to cut
WHEN: Tuesday, Nov. 17 at 12 p.m.
WHERE: Outside of Sprint Store, 1235 Chestnut St., Philadelphia
BACKGROUND: Mobile Beacon and Mobile Citizen provide unlimited broadband service for just $10 a month to 429 schools, 61 libraries and 1,820 nonprofit organizations across the country on Sprint's WiMax network. Many of these organizations in turn provide service to students, the elderly, the disabled and other segments of the population often not able to afford Internet service at the customary prices offered by commercial providers.
The nonprofit entities that created Mobile Citizen and Mobile Beacon are among the largest Educational Broadband Service (EBS) providers in the United States. EBS refers to spectrum the Federal Communications Commission reserved to serve the public interest by providing wireless broadband services in support of education. The nonprofits that make up Mobile Citizen and Mobile Beacon leased a portion of their spectrum to Clearwire for 30 years in 2006 in exchange for the ability to provide unlimited, high-speed broadband service to schools, libraries and nonprofit organizations across the United States.
Sprint purchased Clearwire in 2013, and has since announced it will shut down the WiMax network. It has made it impossible for Mobile Citizen and Mobile Beacon to migrate their schools, libraries and nonprofits over to Sprint's LTE network because, among other things, it is throttling their Internet service.
Last month, the nonprofit entities filed a lawsuit charging Sprint with failure to uphold its obligation to provide unlimited Internet service to Mobile Citizen's and Mobile Beacon's customers. That litigation is now pending.
About Mobile Citizen
Mobile Citizen offers mobile broadband service exclusively to nonprofits and schools at remarkably low cost. For more information, visit mobilecitizen.org. Mobile Citizen is funded by Voqal, a consortium of five nonprofit organizations committed to bringing technology to the education and nonprofit communities for over 25 years.
About Mobile Beacon
Mobile Beacon provides fourth generation (4G) mobile broadband services exclusively to schools, libraries and nonprofit organizations across the United States through an agreement with Sprint. Mobile Beacon was created by a 501(c)(3) nonprofit organization and the second largest national educational broadband service (EBS) provider in the country. We help educators and nonprofits get the Internet access they need and extend access within their communities to those who need it most. Learn more and visit Mobile Beacon at https://www.mobilebeacon.org/, http://www.facebook.com/mobilebeacon, and http://www.twitter.com/mobilebeacon.