Last week, on the eve of the WiMAX shutdown in the Twin Cities, Mobile Beacon was on site in St. Paul with our partner, PCs for People (PCP), to help remaining low-income Twin Cities residents get online with our new 4G LTE service. It was a busy day right from the start. Before PCs for People's doors opened at 10 am, 22 people were lined up outside. Some had driven more than 40 miles to get there, others had arrived two hours early to be among the first to get their new devices.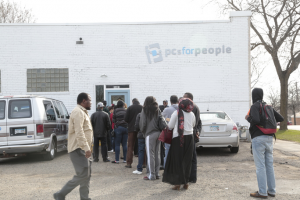 Mobile Beacon's team (in our trademark orange shirts!) included Katherine Messier, founder and managing director, and Rick Lindholm and Gina Restaino from our Sales and Customer Service teams. We jumped in feet first, spending the day answering people's questions about our new LTE Internet service, assisting with on-site technical support issues, and learning what goes on daily at PCP headquarters to keep up with the demand for low-cost computers and affordable Internet access for people below the 200 percent poverty level.

The best part of the trip was getting to hear directly from the 150+ individuals and families about why they were there, what they needed the computer/Internet for, and seeing their smiles as they walked back out the door. Here are a few stories people shared with us:
Correne needs an Internet service with enough data to support video conferencing. She just started her own jewelry business and will rely on the Internet (primarily video conferencing) to showcase her work, grow her business, and support herself. She also uses the Internet to stay in touch with her daughter in Florida.
Jimmy is a middle-aged man working towards getting his GED and has school-aged children who need the Internet to complete their school work. Because Mobile Beacon's Internet service isn't restricted just for students, Jimmy was free to use it for his own educational and professional pursuits.
Our partnership with PCs for People is part of of Mobile Beacon's i3 Internet Inclusion Initiative — an initiative born out of our charter to make affordable, high-speed broadband available to schools, libraries and nonprofits and benefit the communities they serve. In the last 60 days alone, Mobile Beacon and PCs for People's program has accomplished the following: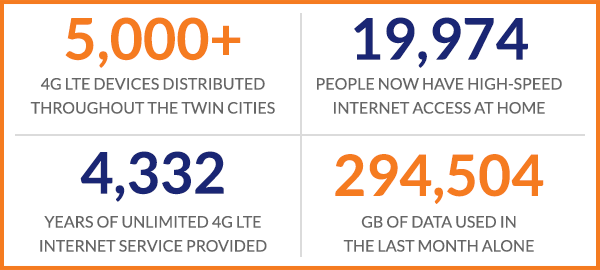 These stats are a testament of the power that comes from two nonprofits united under a shared mission to close the digital divide. Together, we CAN break the cycle of poverty and put people on the path to opportunity through broadband adoption. It takes hardware, materials, training, an Internet service that is open to all members of the household, and a team of employees willing to roll up their sleeves and "meet the needs of the day" each and every day.
What's next? Mobile Beacon and PCs for People are working on expanding our partnership outside of the Twin Cities. If your school, library or nonprofit is interested in starting a digital inclusion program like this one in your community, stay tuned for more details!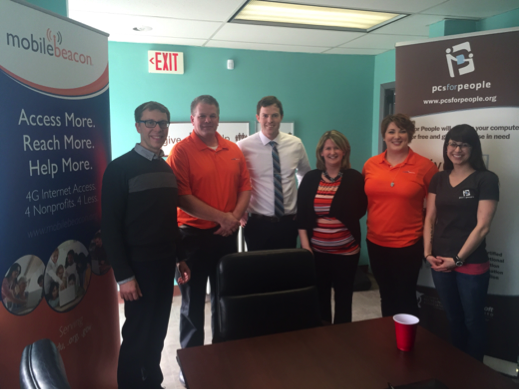 Check out our Facebook Album for more photos from this event!