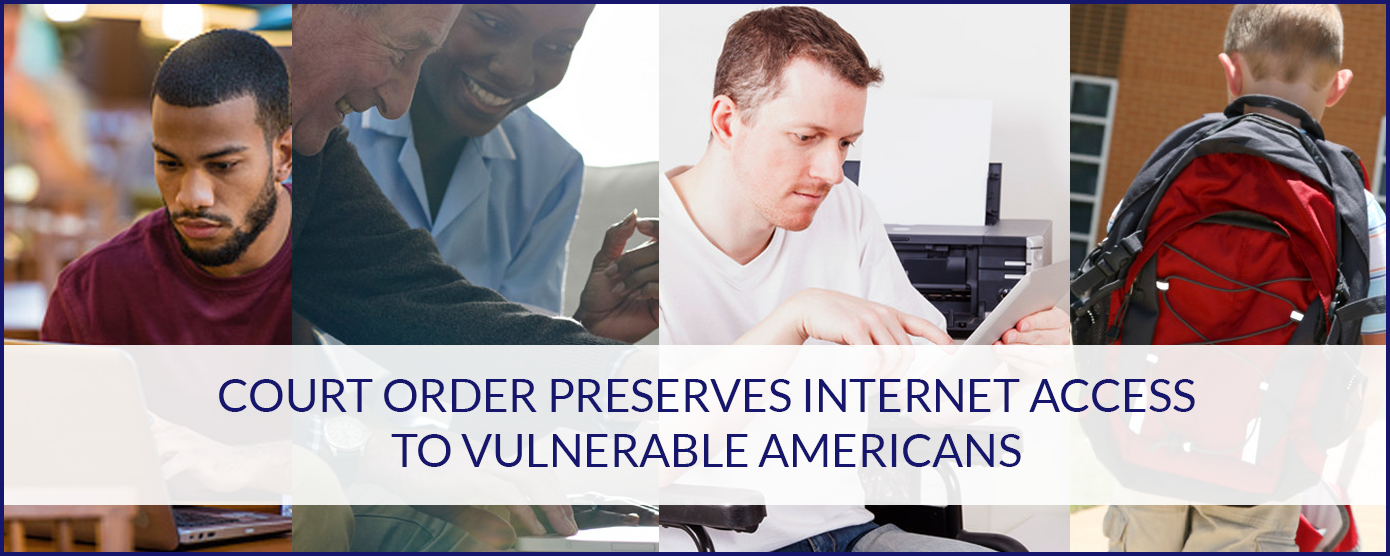 (BOSTON) January 29, 2016 – A Massachusetts state court today granted a joint motion to extend a preliminary injunction that temporarily saved Internet access to 1,820 nonprofits, 429 schools, and 61 libraries across the country. The motion was made by six nonprofit organizations who provide broadband access to more than 300,000 vulnerable Americans and Sprint Spectrum LP, though the telecommunications company remains a defendant in ongoing legal action with the nonprofits.
"This request is a positive step forward for everyone involved. We've made great strides in our effort to migrate our users to Sprint's LTE network, but there's still more work to do," said Katherine Messier, founder and managing director of Mobile Beacon. "This extension will enable us to ensure that the students, seniors, disabled, and other vulnerable populations who rely on our service keep their broadband access. We're not going to stop until we've given every last person the chance to make the switch to LTE."
The original preliminary injunction required Sprint to keep WiMax operating in 80 cities through February 2, 2016. The modifications to the injunction create a schedule for a phased WiMax shutdown with 16 cities shutting down by February 2nd, 39 cities by February 29th, and the remaining 25 cities by March 31st. The updated list of the WiMax decommissioning schedule by city is available here.
For more than five years, Mobile Beacon and Mobile Citizen have provided unlimited broadband service for just $10 a month to schools, libraries and nonprofit organizations across the country on Clearwire's WiMax network, which was subsequently acquired by Sprint. Sprint had planned to shut down the WiMax network this past November, until a Massachusetts state court stepped in on the eve of the shutdown to put a three-month hold on Sprint's plan and preserve Internet access for Mobile Beacon and Mobile Citizen's community of users.
Over the past three months, Mobile Beacon and Mobile Citizen have successfully migrated an estimated 40% of their joint customers, but more time is needed to give their remaining users an opportunity to move to LTE prior to losing WiMax service.
"We remain committed to the customers we serve," said John Schwartz, the founder and president of Mobile Citizen. "And we will continue to do whatever we can, including continuing to hold Sprint accountable to make sure it continues to keep our community online."
The nonprofit entities that created Mobile Citizen and Mobile Beacon are among the largest Educational Broadband Service (EBS) providers in the United States. EBS refers to spectrum the Federal Communications Commission reserved to serve the public interest by providing wireless broadband services in support of education. The nonprofits that make up Mobile Citizen and Mobile Beacon leased a portion of their spectrum to Clearwire for 30 years in 2006 in exchange for the ability to provide high-speed broadband service to schools, libraries and nonprofit organizations across the United States.
The preliminary injunction and the modifications made to it do not effect the lawsuit the nonprofits filed on October 14, 2015, which is ongoing. With more than 20 years remaining on the Clearwire/Sprint contract, the long-term resolution of this case will affect the level of broadband service available to hundreds of thousands of users over the next two decades.
"I take it as a good sign that Sprint has joined us in making this request. Although it doesn't change anything that is yet to be determined in the overall lawsuit, finding some common ground in the short-term is a good first step," Messier added. "I'm hopeful we can build on this and work towards a long-term resolution."
About Mobile Beacon
Mobile Beacon provides fourth generation (4G) mobile broadband services exclusively to schools, libraries and nonprofit organizations across the United States through an agreement with Sprint. Mobile Beacon was created by a 501(c)(3) nonprofit organization and is the second largest national educational broadband service (EBS) provider in the country. We help educators and nonprofits get the Internet access they need and extend access within their communities to those who need it most. Learn more at mobilebeacon.org, www.facebook.com/mobilebeacon, and www.twitter.com/mobilebeacon.
About Mobile Citizen
Mobile Citizen offers mobile broadband service exclusively to nonprofits and schools at remarkably low cost. For more information, visit mobilecitizen.org. Mobile Citizen is funded by Voqal, a consortium of five nonprofit organizations committed to bringing technology to the education and nonprofit communities for over 25 years.