i3 Enrollment Partner Program
Helping low-income Americans get online and get ahead.
PCs for People and Mobile Beacon have each been working on the front lines for digital inclusion for years. Now, we've combined resources to create a one-stop shop for low-income Americans to get access to affordable computer and first-class, high-speed internet access.
How it helps:
Research shows that access to technology greatly increases a person's chance to finally break the cycle of poverty that persists in the digital divide. PCs for People and Mobile Beacon are committed to providing high-quality, functional computers and a first-class, high-speed internet service, so a limited budget doesn't mean second-class level of resources.
Unlimited Access: No data caps and no throttling mean that every member of the household can connect without fear of being put in the "slow lane."
Broader Reach: Available to underserved Americans of all age groups and family types — from students to seniors and single adults.
Anytime, Anywhere Connectivity: Mobile Beacon's LTE hotspots provide enable transient populations to stay connected.
In just 90 days,
our program has made significant strides in closing the digital divide: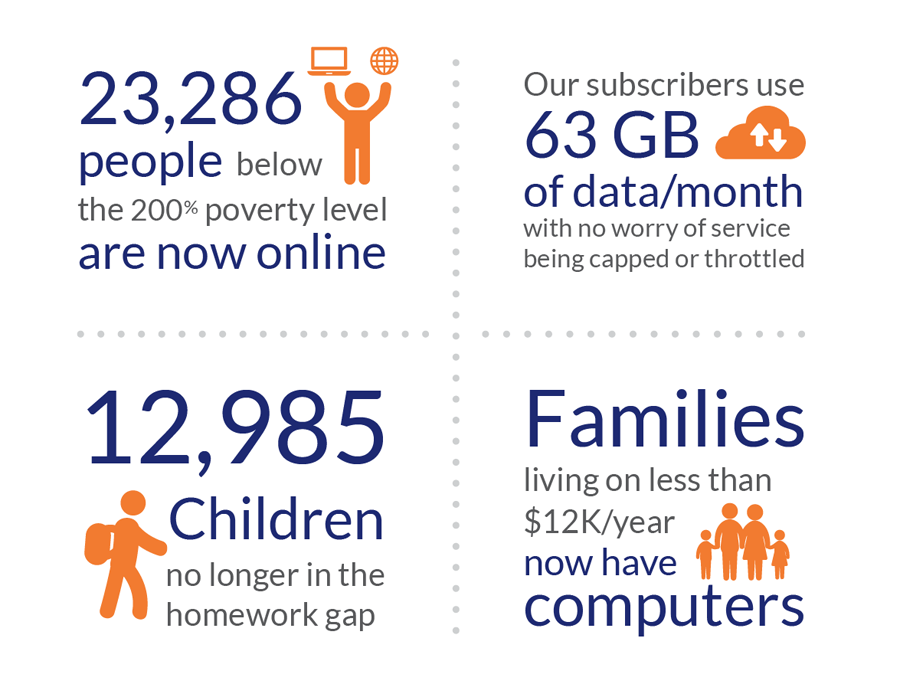 Now available nationwide!
In the spirit of inclusion, PCs for People and Mobile Beacon are making our platform available to schools, libraries and nonprofits nationwide so they can replicate this offer in their communities. We'll help you hit the ground running with a free platform that manages billing/subscriptions and provides real-time reporting to help you measure and report on your impact.

In their words
i3 subscribers share how getting online has changed their lives.
"The ground is not level for everybody. Not everyone can afford a Cadillac. Some people can only afford a bike. But the important thing is getting to the same destination. Mobile Beacon and PCs for People are helping people on bicycles get to the same destination as somebody in a Cadillac."
– Anthony Njoku, i3 Subscriber
"[Without your service], I would not have internet at all because it is cost-prohibitive for my income level. I missed out on things normal families had. That's why I appreciate so much what you do. We don't get to pick the family we're born into or what our schools are like."
– Sandy Fiegen, i3 Subscriber