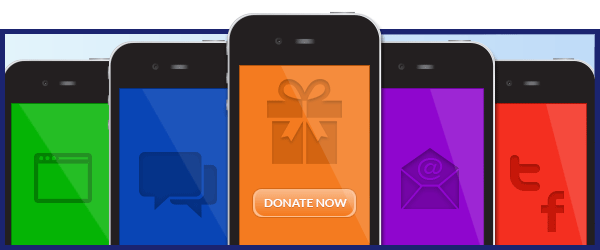 With Thanksgiving upon us, we've officially entered the "Holiday season." You know, that cookie-baking, turkey-eating, charitable-giving time of year. It's coming up faster than a Nor'easter in Maine, and the push is on for nonprofits to boost the bottom line. How? With last minute gift donations (think Heifer International) and reminders that givers can increase their charitable giving tax donation right up to the stroke of midnight on New Year's Eve.
All the traditional fundraising tools (phone-a-thons, direct mail) are great, but they take time and resources. Plus, the way donors are interacting with their favorite charities has evolved: they've gone mobile. The Pew Internet Project's research shows:
•    56% of American adults now have a smartphone
•    34% of them have a tablet computer
•    34% of smartphone Internet users go online mostly using their phones
What's more, the Nonprofit Tech for Good says reaching mobile consumers is one of the most inexpensive ways to increase donor engagement. How?

1. Email
47% of all email is opened on a mobile device. So you have a good chance your email donation request will be opened on a small screen – make sure it can be read easily and links to a mobile-optimized landing page. Data shows that donations referred by email decreased by 21% due to slow, clunky non-mobile donation pages at the other end of the link.
To-do: Optimize your e-newsletter for the small screen.

2. Text
In October 2013, mobile phone users sent an average of 678 texts a month! People want quick and easy, and text-to-donate fills the bill. It satisfies users' instant gratification urge and allows you to capitalize on that initial spur-of-the-moment generosity people have when they first hear your request.
To-do: Set up a numeric donation code that users send a text to.

3. Social
55% of social networking happens from a mobile device. Donors are following their favorite charities on Facebook, Twitter, and other social sites. Make sure you reach out to them by supplying relevant and interesting content to your social streams that leads to a mobile-optimized site.
To-do: Map out a social media posting strategy designed to generate donations.

4. Web
This is the lynchpin, where everything else leads. If your site is slow to load, impossible to read, or not designed for the small screen, all your other strategies will fall short. Don't make givers bookmark your site to return to later when they're at a desktop computer – they won't. Mobile-optimized websites feature a simplified design that allow them to load faster, be read more easily, and prevent quick exits due to visitor frustration. Forms must be easy to fill out and the call to action must be crystal clear. Remember, what seems clear on a big desktop screen may be hidden on a 4" phone screen.
To-do: Grab your own smartphone and take your site for a test drive. If your website is already responsively designed, good for you! If not, at least get your donation landing page optimized for mobile, and put mobile strategies on the top of your list for the new year.
Tell us your favorite mobile strategy for social good!