In our last blog post, we talked about the surprising number of Americans without access to the Internet: who they are and what barriers are preventing them from getting connected. One thing experts agree on is that the digital divide has far-reaching consequences at the individual, community, and national level.
That's why we're excited to give our blog readers the first chance to take advantage of a new program before anyone else. As part of our i3 Internet Inclusion Initiative, Mobile Beacon has launched a new partnership with EveryoneOn, a national nonprofit focused on eliminating the digital divide. Our low-cost 4G Internet service combined with EveryoneOn's localized information on low-cost computers and digital literacy training brings together the access, hardware, and training needed to put Americans on the path to opportunity. The program will be publicly announced in late February, but you can sign up right now.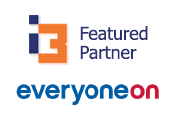 What's unique about this partnership?
While EveryoneOn has partnered with many local Internet service providers, Mobile Beacon's offer plays an important role in filling some gaps.
Unlimited Access: It's a $10/month Internet plan that offers unlimited data.
Broader Reach: It's available to underserved Americans of all age groups and family types — not just those who have a child receiving free school lunch under the National School Lunch Program.
Mobility = More Access: It offers a choice of fixed or mobile devices so users are not limited to personal Internet access only in their homes.
Low Cost, Long-Term Solution: There is no set expiration date on our $10/month offer.
How can nonprofits get involved?
Nonprofits can participate in this program in two ways:
You can enable your employees, volunteers, board members and staff to directly purchase Mobile Beacon's service and devices.
You can extend the offer to your constituents to help connect underserved members of your own community.
The best part? We designed this program to offer schools and nonprofits the maximum benefit without the administrative burden. EveryoneOn takes care of the individual back-end billing so nonprofits can focus their resources on their mission, not paperwork.
How do I get started?
You don't have to wait for the formal program launch, you can sign up right now. The first step is to become a registered partner of EveryoneOn and prequalify your beneficiaries/membership (employees, board, staff, volunteers, and constituents). Registration is free and only takes a few minutes!
In 5-7 days, EveryoneOn will send you a custom URL (e.g. everyoneon.org/NonprofitName). To make this offer available to your beneficiaries/membership, all you have to do is share the custom URL with them. They'll be able to select a 4G device and sign up for service directly. EveryoneOn will also provide you with free, custom reports so you can track adoption, retention, and usage over time.
Here are a few ideas on how nonprofits can use this offer to help close the digital divide in their communities:
Schools can qualify families as an option for out-of-school Internet access
Housing authorities can offer access to low-income residents
Libraries can offer access to underserved patrons such as the elderly and disabled.
Lastly, spread the word! Feel free to repost our blog, share it on Facebook, and tell your colleagues about it. It's a great way to close the digital divide and give the underserved members of your community the digital tools they need to succeed.
Visit mobilebeacon.org/everyoneon/nonprofits for details and availability.