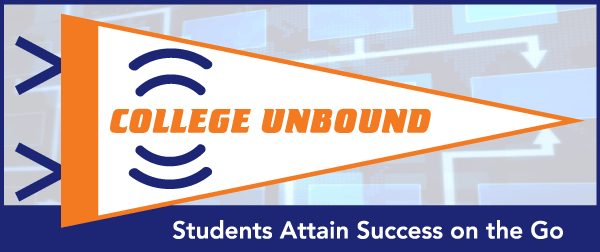 Problem: College Unbound is a 501(c)3 nonprofit dedicated to providing a pathway to an accredited bachelor's degree with partnering colleges and universities. The program is targeted to those who began a degree program but were unable to finish, often adults who are full-time workers, full-time students and full-time parents. Though College Unbound is dedicated to educating one student at a time in out-of-the-classroom settings, many of their students did not have the necessary access to computers or Internet to complete their coursework.
Mobile Beacon Solution: Through our laptop donation program, College Unbound received laptops and modems they could lend to students, as well as access to our $10/month unlimited 4G data plan.
In January 2014, 27 students were offered the opportunity to borrow a laptop and modem: 21 chose to borrow a modem, 15 chose to borrow a laptop. Since the College Unbound program is largely online, having the Mobile Beacon modems and 4G mobile Internet service gave students the tools they needed to participate in College Unbound's highly personalized and flexible program.
Students used the laptops and Internet access for homework, taking notes, creating flyers and email. Staff also found the devices extremely useful in providing backup Internet when their connectivity was interrupted, citing Mobile Beacon's service rescued their work day on several occasions.
Results: Students were thrilled to be able to connect to the Internet wherever they needed it, crediting the anywhere-access with helping them complete assignments on time. Others who had never had a computer or Internet access were excited to finally have the tools they needed to succeed. At the end of the semester, a study of participants revealed:
100% of respondents cited an example of how the devices assisted with project development and/or helped them to complete assignments.
Of the respondents who borrowed laptops, 78% said they used the laptop often. 100% rated them as very useful.
Of the respondents who borrowed a modem, 77% rated them as very useful, and 38% said they used the modem often.
In their words:
"I used these devices daily for homework assignments and project work. Without either one, this term would have been a lot harder."~Marggines, Student
"As someone who doesn't own a computer and has no regular access to the Internet, having these tools provided has been instrumental in my ability to do the work required of me." ~Aneudy, Student
"My son is in several sports activities. I was able to do my homework assignments at his practices. Very helpful." ~Ka-yonna, Student
What's next: Over the summer, staff will continue to use the devices regularly. Laptops will be used for incoming students to complete online applications and modems will be used while working out of the office, particularly for recruitment. The same offer will be extended to students attending College Unbound in the fall, and the devices will be assigned to new students who have indicated a need.
As you're planning for the 2014-15 academic year, do you have all the technology resources you need? Share your stories with us!