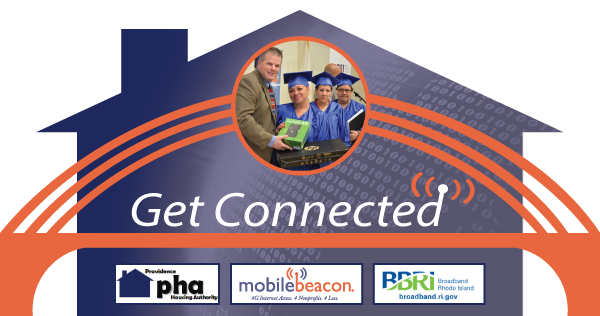 The Providence Housing Authority (PHA) not only provides safe, affordable housing, its mission includes addressing residents' economic needs and offering a bridge to a better future. But one-fifth of their residents don't have Internet access at home – a key tool in finding and applying for jobs, signing up for an affordable healthcare plan, and continuing education.
Barriers to access include both financial and technical limitations. Most residents cannot afford equipment or access, and a lack of experience with basic computer skills limited residents in the job search process, as many companies now only communicate with job seekers online. "Companies may be hiring, but you have to apply online and that's where the fear comes in," said Sorrel Devine, Director for the PHA's Department of Resident Services.
Community partners came together to help PHA develop the "Get Connected" digital literacy initiative, an innovative public-private partnership between the PHA, Broadband Rhode Island (BBRI), and Mobile Beacon. The program connects low-income residents with the resources they need to succeed in our digital society.
Get Connected's first pilot program involved 25 adults in the Manton Heights housing community in Olneyville, giving them digital literacy training and long-term access to technology. The initiative was a multi-layer solution that included: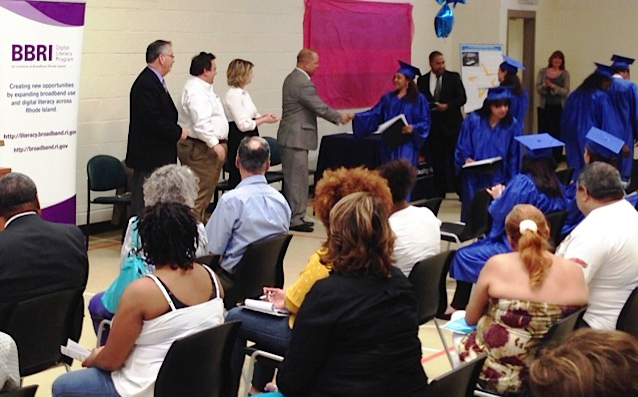 PHA Graduates are congratulated by Senator Pichardo and representatives from Mobile Beacon, BBRI and PHA.
Leveraging grants to establish an on-site computer lab with an experienced, bilingual instructor.
Developing and implementing a 6-week Internet Basics training course and a financial literacy course.
Equipment and access upon graduation. Mobile Beacon provided each student with a donated laptop, a donated 4G Wi-Fi modem, and free 4G Internet service for six months.
The opportunity to receive ongoing
low-cost, unlimited Internet access from Mobile Beacon for $10/month (or another low cost Internet offer) through the EveryoneOn.org national platform.
The results have been nothing short of transformative. Devine reports students overcame their fear of computers and the Internet in just a few classes. One resident who took the class quickly enhanced her job search skills and landed a job offer. And for many residents, this program is the first time they have owned a computer and enjoyed private Internet access.
The excitement and success of the program was evident as the first wave of students took it upon themselves to establish a DigiClub so they could continue to share information and support one another. They plan to meet monthly with potluck gatherings to connect with peers and opportunities.The pilot program also helped PHA secure a 2014 Olneyville Community Fund grant from United Way of Rhode Island, which they will use to sustain the "Get Connected" initiative. This grant funding will open the door for more Manton Heights residents to benefit from additional Digital Literacy classes in fiscal year 2015.
Inspired to connect your community?
Housing authorities and other nonprofits interested in developing similar programs can enroll
for free as a nonprofit partner with EveryoneOn and receive the following benefits:
The ability to prequalify your staff and constituents for low-cost Internet offers from MB and other Internet Service Providers. The best part: EveryoneOn manages the back-end billing so you don't have to.
Free monthly reports so you can track adoption and retention over time. A great way to demonstrate the impact of your program.
Access to a free crowdfunding platform so you can set goals and fundraise in your community. 100% of the proceeds raised will go to
your program.
To get started, register your organization at http://www.everyoneon.org/mb-partner..